Selena Gomez Shares How She Handles a Crush While Returning to Radio Disney
Selena Gomez has returned to her roots.
A decade after bursting on to the Hollywood pre-teen scene as a Disney star and singer, the 24-year-old returned to the place where it all started on Thursday with a visit to Radio Disney studios. «This is actually where I got my first job ever,» she told fans of the building on Instagram. «It's so cool to be back here.»
Before she even sat down for an interview, Gomez was already busy meeting a longtime fan and fellow Disney Channel actress Jenna Ortega, 14, who stars on Stuck in the Middle. According to Ortega, she has looked up to Gomez her «whole life.»
If it wasn't enough of a full-circle moment, the triple threat was presented with her seventh Radio Disney Music Award as the 2017 «I'm With the Band—Favorite Tour» category winner.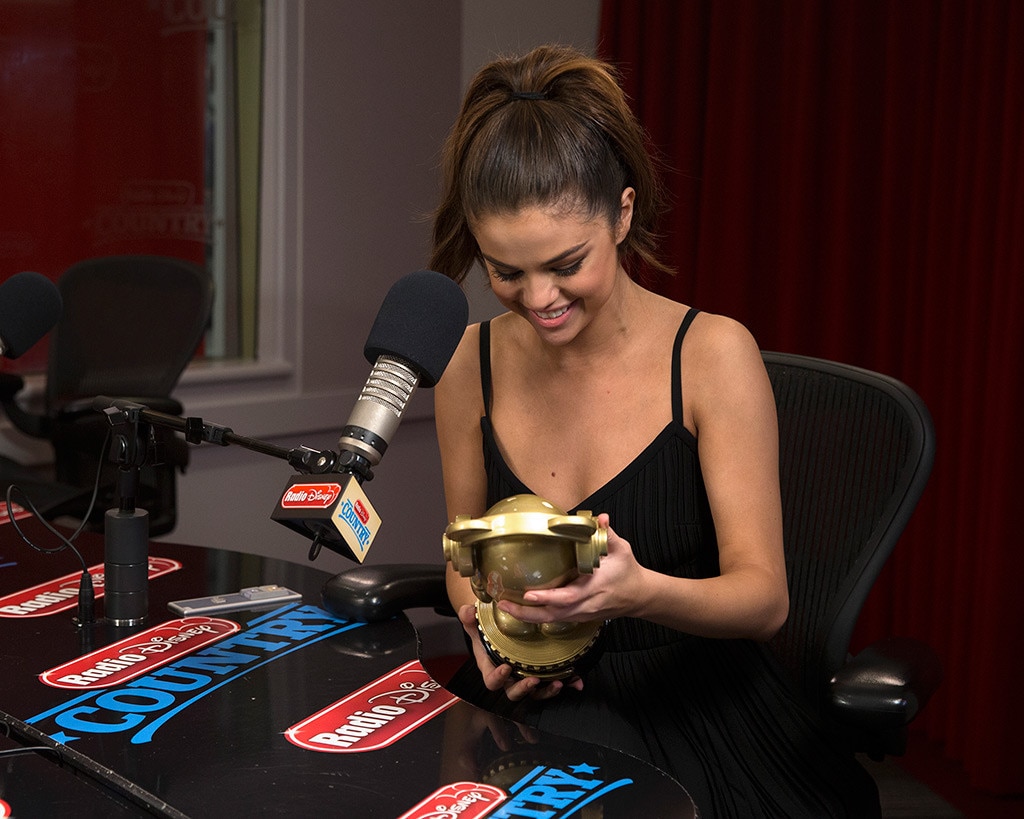 «Wow, thank you so much! This is so awesome…This is going to go in the collection for sure,» Gomez said during the Candice On Air interview.
Of course, a lot has happened since she was first in that building. Gomez has released two solo albums, spearheaded the wildly popular Netflix series, 13 Reasons Why and recently dropped her newest single, «Bad Liar.»
«It's kind of therapeutic,» she said of writing music. «You're sitting there and talking to people about what you're going through, and you're thinking, 'How can we impact somebody? How can we make this a great song? How can people relate to it?'…I think that's important and it's fun. I love making people happy, and especially right now, that's what makes me happiest—being able to create stuff that people can enjoy.»
While being in the studio is a task she welcomes with open arms, she needs to balance it with personal time.
«I've been in the studio for over a year. I took a break last year for myself to figure out where I wanted to go creatively, and it was good,» she recalled during the Radio Disney interview.
«I've been doing this for so long and I needed a second to breathe. When I did that, I came back and I had it for a while, and I think it's safe to say I feel like I have a whole album put together at this point. But, I wanted to make sure everything was done at my pace. I didn't want to rush anything. I wanted to make sure my life was balanced and happy and healthy first.»
Her latest single touches on the star's range of emotions. «This song is telling a story…it's a feeling that you can't help. For me, I wear my heart on my sleeve. Anyone who knows me knows that I wear my heart on my sleeve with my fans and with people in general, and that's just who I am,» the singer said. «When I'm in that place of being happy, I'm happy, and when I'm in my low, I'm in my low. It just describes exactly my character, in a way.»

If we had to guess by looking at her, the star seems very happy as of late, particularly when she's next to her beau, The Weeknd. However, as she pointed out during the interview, your well-being is the priority, especially when a crush is involved.
«You have to be good and take care of yourself. That's what I encourage, I'm always about that. That's the most important thing,» she said. «Then, if you have people in your life that can add to that and make you happy and just do that for you, then that's what it should be.»
This article was originally published by: E! News