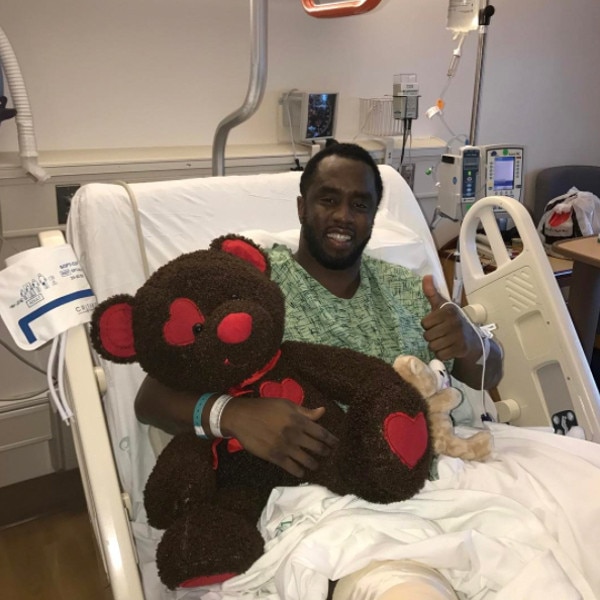 Instagram
Third time's a charm!Sean «Diddy» Combs is in the hospital recovering after having his third knee surgery in a year. The rapper-entrepreneur, 47, shared post-op photos of himself surrounded by his family on Instagram late Thursday.

«Just had my final knee surgery. They said I'd never run again. I SAID THE DEVIL IS A LIAR.!! 3 surgeries in one year! 3rd times a the charm!!!» he wrote in one of his Instagram posts. «#Rebirth don't take the simple things in life for granted. Thank you to all the surgeons and docs and PTs. I THANK GOD FOR YALL! And #teamlove #ThankYou #GODISTHEGREATEST.»

Those who couldn't make it to the hospital made sure to send gifts. French Montana had a beautiful bouquet of flowers put in Diddy's room. «Flowers from my brother @frenchmontana love you baby bro,» he wrote in another post.
The «All About the Benjamins» rapper turned his multiple hospital experiences into a life lesson that showed him how to have faith in even the toughest of times. «God puts us all thru things for reason. It's up to us to learn through the things that he puts us through! Sometimes you have to go through the pain to get to the joy. This journey has brought me closer to God. Closer to my family. And most importantly closer to myself. As this has been God's will,» he wrote in an emotional post.
That being said, he's ready to resume normal life and maybe even twirl people on the dance floor.
«Thank you to My staff for being patient and riding with me the last two years and holding me down. Tomorrow's a new day. Step-by-step! Thank you to all my fans and friends ! Thank you for your prayers and support! I'm doing great. And I appreciate your concern,» he continued. «And a special shout out to everybody who's laid up in a hospital right now my prayers are with you you're not alone god bless and keep fighting! SAVE ME A DANCE! All LOVE!!!! IM DOING GREAT BY THE WAY! Thank you.»Get well soon, Diddy!