It's Angelina Jolie's turn to talk.
Nearly a year after one of Hollywood's most iconic couples called it quits, one half of the former Mr. and Mrs. Jolie-Pitt is finally speaking her peace.
In a lengthy interview for Vanity Fair, the Oscar winner and mother of six invites readers into her new normal as a single parent with an empty house, looming new film, First They Killed My Father, and a fresh chapter of her life already in motion.
While she's skittish about discussing her and Brad Pitt's separation or going into great detail about the fallout of their marriage, she sounds unfiltered on most other topics, including the decision to have her ovaries removed, figuring out how to «keep house» and the physical toll the last year has taken.
Here are all of the shocking things we learned from Jolie's sit-down: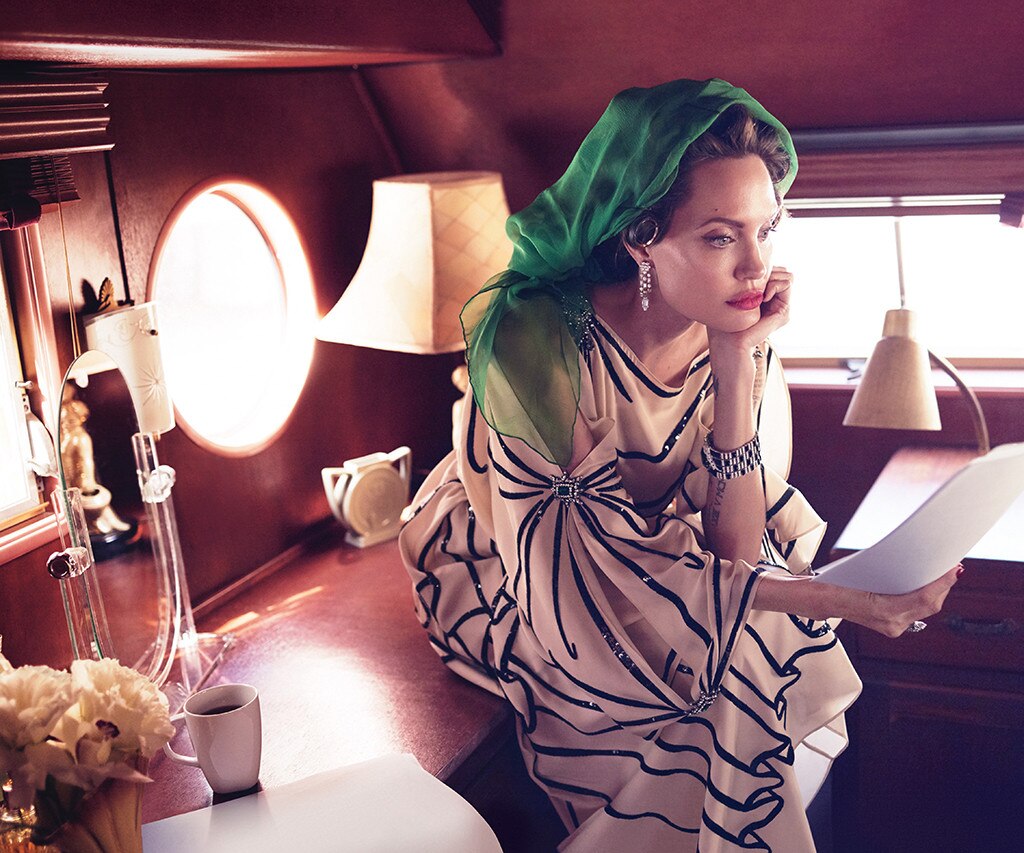 1.
She does not consider herself a domestic goddess—but is trying. 
As she admitted during the interview, «I didn't even know I needed 'throw pillows.'» While it doesn't sound like matters of house and home come easiest to Jolie, she has been spending the last nine months immersing herself in homemaking.
«I'm just wanting to make the proper breakfast and keep the house. That's my passion. At the request of my kids, I'm taking cooking classes. As I go to sleep at night, I think, Did I do a great job as a mom or was that an average day?» the star explained to the magazine.
«I've been trying for nine months to be really good at just being a homemaker and picking up dog poop and cleaning dishes and reading bedtime stories. And I'm getting better at all three. But now I need to get my boots on and go hang, take a trip.»
2. For as famous as the actress is, her household is strikingly normal. 
In the earliest parts of the article, the author notes the actress' wet dog jumping on the sofa, her 9-year-old daughter Vivienne Jolie-Pitt emerging from a sleepover and 9-year-old twin Know Jolie-Pitt asking for a water slide in their new home. Despite the glitz and the glamour that has surrounded Jolie publicly for decades, it seems elements of her home life are surprisingly just like everyone else's.
3. Her parents' breakup has as much of an effect on her now. 
Voight and her late mother, Marcheline Bertrand, separated after five years of marriage and Bertrand became a single mother with two children. It's a history Jolie both relates to and is conscious of.
«I was very worried about my mother, growing up—a lot,» she told Vanity Fair. «I do not want my children to be worried about me. I think it's very important to cry in the shower and not in front of them. They need to know that everything's going to be all right even when you're not sure it is.»
4. She «skipped» into surgery to removed her ovaries. 
In 2015, Jolie publicly revealed that she opted to have her ovaries and fallopian tubes removed after her doctor noticed potential signs of cancer in her blood test results. While she didn't ultimately have cancer, she happily welcomed the surgery anyway.
«I went into the actual surgery happy as they come,» she recalled to the magazine. «I was skipping. Because at that point it was just preventative.»
5. She was diagnosed with Bell's palsy. 
Among the most unexpected admissions is her once secret Bell's palsy diagnosis, a type of facial paralysis which results in sudden muscular weakness on one half of the face.
«Sometimes women in families put themselves last,» she told the magazine, «until it manifests itself in their own health.» According to the star, she has since recovered thanks to acupuncture.
6. She's reconciling with her famous father. 
It's no secret that Jolie had been estranged from her celebrity dad for years, but according to her interview, the two have since reconnected and he is fulfilling his role as grandfather.
«He's been very good at understanding they needed their grandfather at this time,» she told the magazine. «I had to do a therapy meeting last night and he was just around. He knows kind of the rule—don't make them play with you. Just be a cool grandpa who's creative, and hang out and tell stories and read a book in the library.»
The September issue of Vanity Fair hits newsstands on August 8.
This article was originally published by: E! News