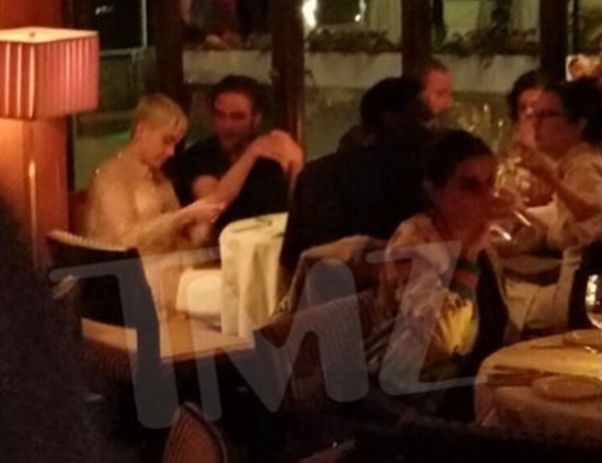 Well, what do we have here? Katy Perry and Robert Pattinson grabbed a bite to eat at a 'romantic' West Hollywood restaurant on Aug. 5, leaving some wondering if these long-time friends are suddenly dating?
Is it possible that Katy Perry, 32, and Robert Pattinson, 31, finally took the plunge, or did these besties just go out for noodles? The "Chained to the Rhythm" singer and the Twilight star were spotted getting "super cozy" at the restaurant at the Sunset Tower Hotel, according to TMZ. It looks as if RPatz and Katy were dining with a few other people at the restaurant, one called "very romantic" by TMZ. These two friends have been the targets of relationship rumors even back when Robert was seeing Kristen Stewart, 27. With Katy being single, having split from Orlando Bloom, 40, in Feb. 2017, is she looking to start a romance with RPatz?
Perhaps, but as mentioned earlier, there have always been rumors that she and Robert were an item. When RPatz and K-Stew finally called it quits, Katy actually reached out to Kristen to clear the air. "I sent her a text message saying: 'I know you've seen all this stuff but you know I would never disrespect you. I'm not that person,'" she said while speaking with ELLE UKmagazine in 2013. "I'm just trying to be a friend to him but it is unfortunate that I do have a set of t*ts."
With all this talk about these two dating, has everyone forgotten about FKA Twigs? Robert is engaged to the 29-year-old singer, and he sort of confirmedthis while speaking Howard Stern on July 25. When asked, point blank, if Robert asked Twigs to be his wife, he said, "Yeah, kind of… She's amazing. She's super talented, and from a totally different world." It was the first time he acknowledged that these two were engaged, and it seems like their love is still going strong.
Katy also has plenty of other men to go after than try and steal RPatz away from FKA Twigs. She and Chris Martin, 40, of Coldplay were reportedly spotted holding hands backstage of the Glastonbury Music Festival on June 24. Plus, if Katy looking to "catch feels" with a younger stud, there's always Niall Horan, 23. Katy said that the former One Direction member is "always trying to, like, get my number, to, like maybe flirt with me? But I'm like, I could babysit you! I'm like your mom!" Niall laughed this off and said that he just wanted to be "friends."
This article was originally published by: Hollywood Life