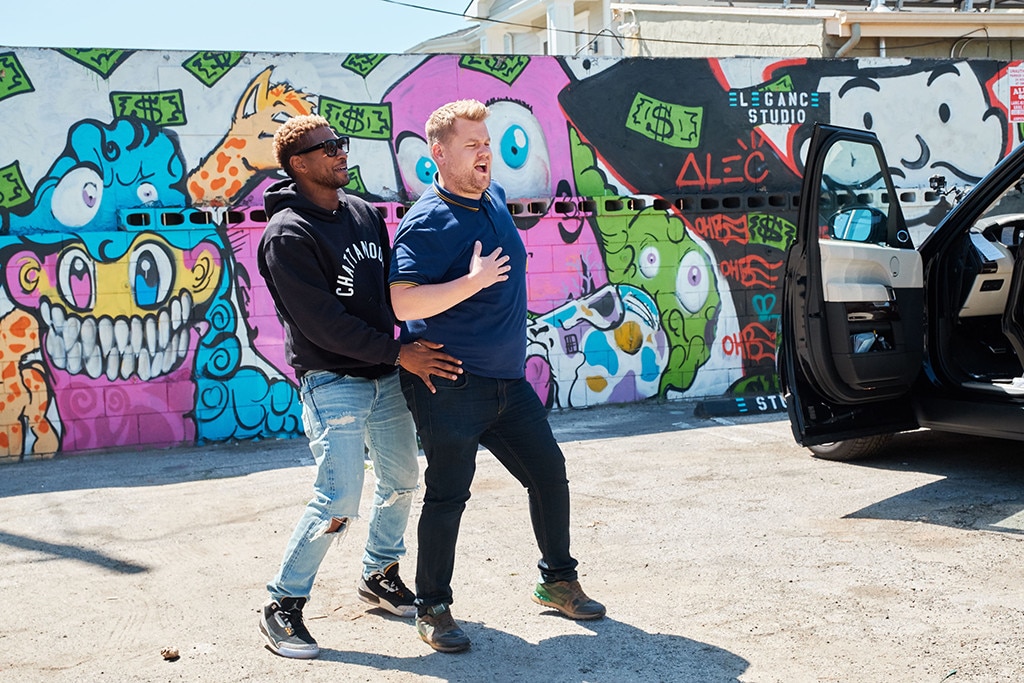 Care to take a spin with Usher?
The 38-year-old R&B singer was the latest celebrity to sit in the passenger seat of James Corden's car as part of «Carpool Karaoke,» a recurring segment on The Late Late Show. In Tuesday's episode, Corden picked up his pal and asked his favorite question: «Do you mind if we listen to some music?» The answer was obvious—and musically appropriate, of course: «Yeah!»
Corden complimented Usher on being «such a good dancer.» As it turned out, he was eager to demonstrate some of his own moves. «Would I be able to show you what I've got in the club and you just tell me—give me some pointers—where I'm going wrong? When I step up in the club, poppin' bottles—you know, like when I'm out, poppin' bottles in the club?» he said. «You know what I'm talking about right? I get table service. Turn it up. Poppin' bottles. That's basically it, isn't it? It's turnin' up, steppin' into the club, poppin' bottles in the club, turnin' up.»
With Outkast's «So Fresh and So Clean» booming from the car's speakers, Usher gave Corden some tips for rolling up in the club. «I feel like I'm in a Broadway show,» the host said. Luckily, Usher knew just what Corden needed to do to improve. «Take the Fosse hands out of it!» he advised. «Swag! Swag! Swag, homie!» After a few more lessons, Corden admitted defeat. «Yeah, I'm never going to the club with you,» he said. «No chance I'm ever going to the club with you.»
Once they were back in the car, it was time to sing «Burn.» Along the way, they decided to pull over to look at Usher's star on the Hollywood Walk of Fame. «I just find it odd,» the singer said. «You work all of these years—as hard as you can—only to have people walk over you as a star.» To remedy the problem, Usher and Corden decided to shine his star before taking a few selfies.
With that out of the way, they were free to sing «Caught Up» in the car. Afterward, Corden asked Usher about becoming a «full-on vegan,» only to learn that he may not be vegan at all. «I've been trying to stay away from meat…I had some really thin sliced beef yesterday,» Usher said. «I've been really focused on being a vegan. I like beef, and I like chicken, but I'm a vegan.»

Usher said he decided to become a vegan because of his son, a self-proclaimed vegetarian who also eats chicken. «OK, just so you know, that means you're not a vegan,» Corden told Usher, who couldn't help but laugh at himself. «You can't tell people you're a vegan but eat chicken and beef…That's like saying, 'I don't drink at all; I only drink beer, cider, vodka and red wine.»
As the ride rolled on, Usher and Corden sang «I Don't Mind» and debated the message in its lyrics. As «OMG» began, they hopped out of the car to push a car that had stalled on the street.

«We're putting out fires all over the place today,» Corden said. After it was over, Usher said, «I had no idea when I got in your car that I would be pushing cars and also cleaning my own star.»
This article was originally published by: E! News