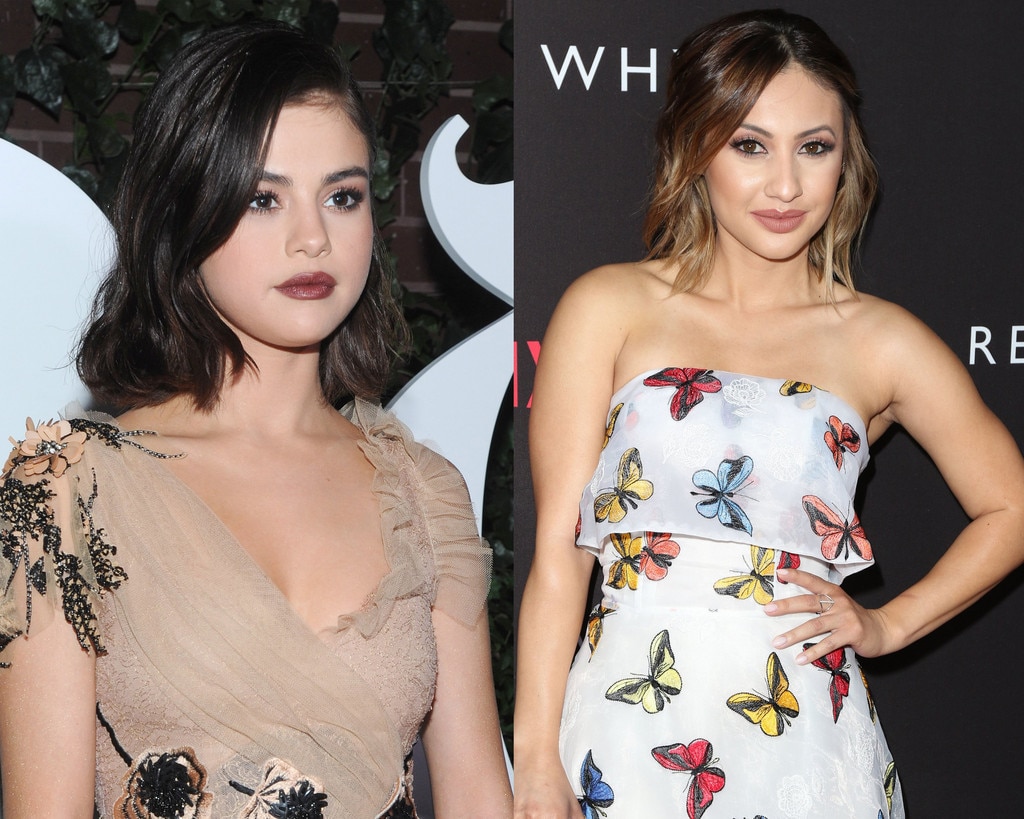 Selena Gomez received more than a kidney from Francia Raisa this summer. In a new interview on Today, the «Bad Liar» singer opened up about how her friend and donor gave her the gift of life.
Before undergoing the transplant this summer, Gomez battled a series of health issues. She had been fighting Lupus for five years, which she announced she had in 2015, and experienced arthritis, low energy and failing kidneys.
«My mentality was just to keep going,» Gomez told Today anchor Savannah Guthrie.
Raisa, who watched Gomez fight for her health as her roommate, recalled seeing her friend struggle physically and emotionally.
«She couldn't open a water bottle one day,» The Secret Life of the American Teenager actress recalled. «She chucked it and she started crying. I said, 'What's wrong?' and that's when she told me. She goes, 'I don't know what to do. The list is seven to 10 years long.'»
Raisa immediately volunteered to get tested to see if she could be Gomez's kidney donor. The «Fetish» singer objected—arguing that Raisa, who is set to appear in the new Freeform sitcom Grown-ish, had too much on her plate. Gomez also couldn't imagine asking her friends and family to make such a sacrifice.
«She lived with me during this interesting time when my kidneys were just done. That was it,» the tearful singer said. «I didn't want to ask a single person in my life. The thought of asking somebody to do that was really difficult for me.»
Gomez also knew the chances of Raisa being a donor match weren't likely.
«Let alone somebody wanting to volunteer, it's incredibly difficult to find a match,» Gomez said.
Still, Raisa insisted. The actress had her blood and urine tested and underwent a series of physical and psychological evaluations all within the span of one day to see if she was a match—a process, she said, normally takes about six months. In the end, the tests indicated that she was a match.
«The fact that she was a match is unbelievable,» Gomez said. «That's not real.»
The two friends enjoyed the night before the surgery by getting matching French braids and having an indulgent meal.
«I wanted us to feel good,» Gomez said.
Still, Raisa admitted the idea of undergoing the surgery was daunting—not just for her but for her family.
«I had to write a will, which was scary because there's no guarantee you'll wake up,» she said. She also revealed that her mom, who is also close to Gomez, «didn't want to be there until I woke up.»
Gomez and Raisa underwent the surgery this summer, which Gomez revealed on Instagram in August.
https://www.instagram.com/p/BZBHr4Pg5Wd/
Raisa went first, holding her friend's hand before undergoing the transplant.

After a successful surgery, it was Gomez's turn. Shortly after the surgery, Gomez said she started hyperventilating. One of her kidneys had «flipped» inside of her body, she explained, causing her to then undergo a six-hour surgery when the standard kidney transplant is only two.

«There was so much pain there,» she recalled.
Thankfully, both surgeries were successful. However, the friends had a long road to recovery. Gomez found a place where the two friends could recover together while they were on bedrest. Still, Raisa said having to lean on others during the healing process wasn't easy.

«It was hard because you constantly needed to ask for help,» she said. «I think one of the most humbling experiences was needing help to put on underwear. We couldn't take showers by ourselves. It was a brutal process.»

In the end, the two recovered and Gomez gained back her health. She said there is now a three to five percent chance that her Lupus will return. She also said her arthritis is gone and she has better blood pressure and energy.

«You feel that Francia saved your life,» Guthrie said to the former Disney star during the pre-taped interview.

«Because she did. That's it,» Gomez said. «I guess I got to the point where it was really, kind of, life or death. It's really hard to think about or even swallow.»

Raisa also expressed that she was «beyond grateful» for the opportunity to help her friend in an Instagram post.

Gomez now hopes that sharing their story will help others.

«I just hope that this inspires people to feel good to know there are really good people in the world,» the singer said as tears dripped down her cheek.

The singer is set to return to the stage at the 2017 American Music Awards.
This article was originally published by: E! News