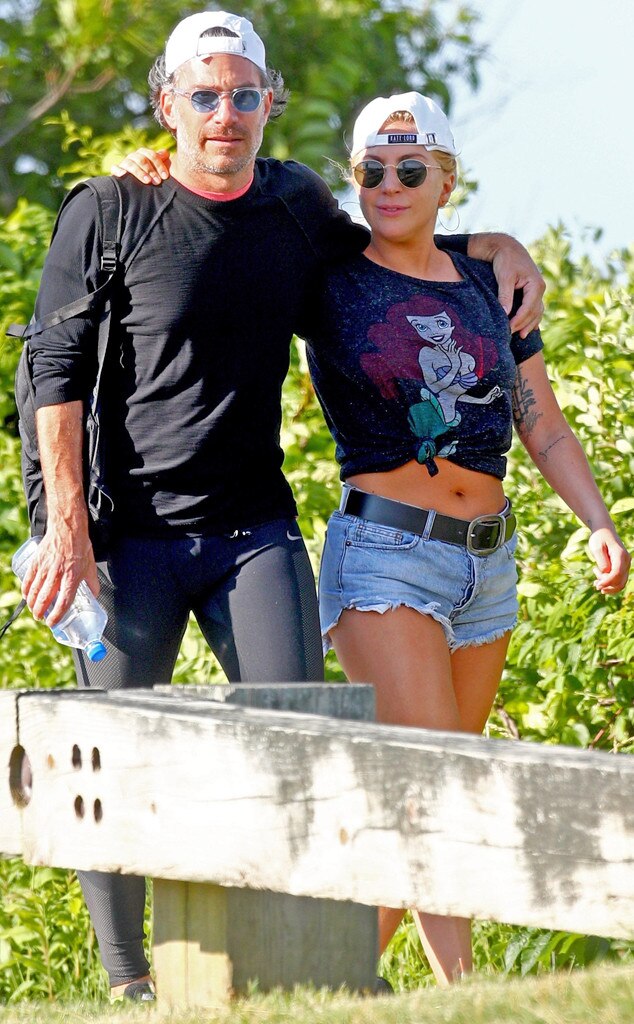 Summer loving, Lady Gaga is having a blast.
The «Million Reasons» pop sensation was photographed enjoying a romantic getaway with Christian Carino in the Hamptons, and it appears this undercover couple is closer than ever before. Gaga and the talent agent worked up a sweat during a beachfront stroll, stopping to admire the views on a set of rocks overlooking the ocean.
Gaga, who rocked a pair of denim short-shorts with a Little Mermaid graphic tee, didn't shy away from wrapping an arm around her boyfriend's shoulder throughout their daytime outing. They even coordinated matching baseball hats, and Carino kept it sporty in dark activewear.
E! News confirmed the singer-songwriter had struck up a romance with the successful businessman more than four months ago after Christian was spotted supporting his lady during her 2017 Super Bowl halftime performance in early February.
Since then, the 31-year-old has shared little information about her blossoming relationship, save for a steamy makeout session following a dinner date in West Hollywood. Carino, 48, was also on hand (with a signature blue bag from Tiffany and Co.!) to ring in Gaga's birthday with her closest family and friends in late March.
Gaga's latest public display of affection with Carino comes almost a year after she and ex-fiancé Taylor Kinney called it quits after five years together.
«It was a very intense, emotional relationship,» a source told E! News after her song «Perfect Illusion» drew comparisons to Kinney. «Maybe she had some things she needed to get out of her system. But there's still a chance they may find their way back to each other.»

Talking to E! News months later Gaga admitted, «I love Taylor so much and he's my best friend.»
If one thing's for sure, Gaga looks so happy in her new relationship and ready for the future.
This article was originally published by: E! News