Jennifer Lawrence Finally Gets Her Revenge
Jennifer Lawrence is done being duped.

Chris Pratt has spent the better part of the Passengers press tour strategically cropping her out of selfies, and on Monday, Lawrence finally got her revenge. «It's always a bad sign when Chris seems sincere about something,» she said on Jimmy Kimmel Live!. «Like, 'Would you care if I took some photos for my social media? I think it would be good for boosting the movie.'» Because she wants their film to succeed, Lawrence replied, «'Of course, man. Yeah.'»

Jimmy Kimmel, master of pranks, refused to let Pratt off the hook. «What kind of person are you? Are you the kind of person who's going to take this and just let this sort of thing happen and let Chris keep [abusing] you?» the host asked. «Or are you going to do something about it?»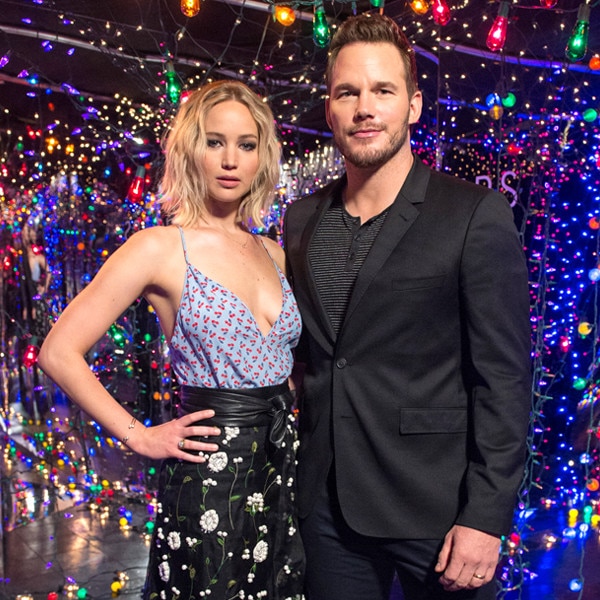 «F–k it,» Lawrence replied. «I'm going to do something about it.»

Lawrence exited through the studio doors. Kimmel told his sidekick, Guillermo Rodriguez, «We should probably follow her because she's the only guest we have tonight.» After meeting up on Hollywood Blvd., Kimmel said, «We're all angry about what Chris Pratt has done on Instagram.»

«Bring it in!» Lawrence yelled.

«What are we bringing in?» Kimmel asked.

«You'll see,» she told him.

A Starline Tours bus rolled up with Lawrence and Pratt's faces on its side. Rodriguez handed Lawrence a can of spray paint and let her go to town defacing her co-star—literally. Kimmel removed the first and last six letters in the movie's title, so only 'ASS' remained, then added an arrow pointing to Pratt. He and Lawrence also removed the first and last letters of Pratt's surname so only 'RAT' remained. After she finished tagging the bus, Lawrence said, «I feel better.» Upon further reflection, she said, «I should have given him devil eyes, but—you know.»

«It's not too late,» Kimmel said. «Let's give him devil eyes real quick.» Lawrence was happy to resume spray-painting the bus, and for good measure, the two added a mustache and a beard.

«Do it to all the movies that might be competing with this one,» Kimmel joked.

Lawrence might want to keep Kimmel on speed dial, because it seem as if Pratt is already plotting his next move. After the episode aired, the movie star tweeted, «If it's war you want….»

Passengers is in theaters Dec. 21.