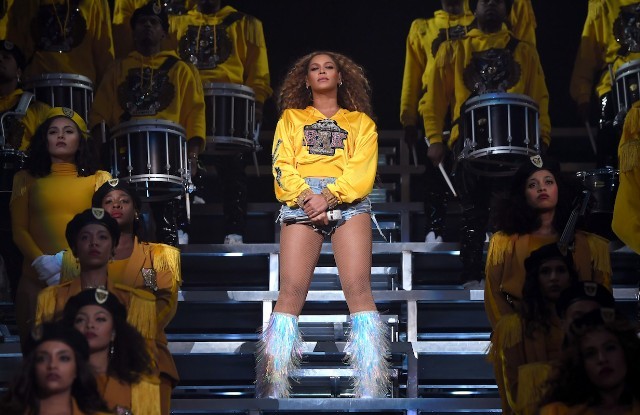 ,
If you want to re-enact Beyoncé's jaw-dropping Coachella performance from the comfort of your own home, Balmain has you covered. Yesterday, the luxury clothing giant announced a new line of collegiate apparel based on the pop star's performance looks. The collection includes the HBCU-inspired "BK" hoodies in black, pink, and yellow, the same colors Beyoncé wore on stage. The only major change from the original outfits is the addition of the Balmain logo, with the letter A replaced by a Greek Delta.
Balmain head designer Olivier Rousteing worked with Beyoncé for months on creating the looks, he said. In a new statement, he gushed, "Collaborating with Beyoncé on her Coachella concerts is destined to be one of the most important and treasured memories of my career. Why? Because Beyoncé." Rousteing added that proceeds from the collection will "help fund the impressive work of the United Negro College Fund (UNCF)," explaining that the donation "responds to our need to repay an obvious debt for the inspiration we received from the signature spirit and legacy of America's historically black colleges and universities (HBCUs)."
The collection drops worldwide this Saturday, July 14, and at Balmain's flagship store in Paris on Friday, July 13. You can see a preview of some of the looks and their on-stage inspiration at Balmain's website.
This article was originally published by: SPIN