The process of translating pop stardom into cinematic success is a delicate, even dangerous, undertaking. Madonna never got it quite right; Mariah Carey became a laughingstock when she tried it; Beyoncé, Britney, and Christina didn't get very far with it. But Lady Gaga, an established pop diva playing a fledgling one in the latest remake of the show-business love story A Star Is Born, seems to have successfully made the leap.
Lady Gaga's performance as Ally is already getting rave reviews and even Oscar buzz. The movie's theme song, "Shallow," her duet with onscreen love interest (and the film's director) Bradley Cooper, has been rising on the charts since it was released last Friday, now joined by the full soundtrack album. Gaga, consequently, is now a bigger star than ever; she's dominating the zeitgeist again to an extent that feels reminiscent of her early, iconic meat dress era.
Cooper's A Star Is Born is based on the well-worn story about a woman performer's rise alongside her lover's decline, already told in the original 1937 film starring Janet Gaynor and revised twice — first in the 1954 Judy-Garland-as-film-star remake, and, most recently, in Barbra Streisand's 1976 rock star update. It has always been, as Rachel Syme writes in her recent interview with Gaga for the New York Times Magazine, not only a romance or a tale of stardom, but also "a film about an already superfamous woman shooting a movie." The movies are designed to work with the existing images of their stars.
Gaga is the kind of complex, multifaceted star the movie doesn't quite know how to portray — but through the force of her talent, we believe in Ally's stardom anyway.
Like Kris Kristofferson in Streisand's version, Cooper's Jackson Maine is supposed to be an old-school arena rock star of a kind that no longer exists. (The character was inspired, in part, by Pearl Jam's Eddie Vedder, though the songs were produced or written by Gaga's usual collaborators, Mark Ronson and Lukas Nelson.) Meanwhile, Gaga as Ally first finds fame through performing a rock ballad with Jackson before going down a pop path — almost a reversal of her real-life career. That contrast provides a powerful subtext for Gaga's performance, and helps explain why it is helping her connect with mainstream audiences again.
It is no accident that this latest A Star Is Born is especially influenced by the Streisand version, and the script traffics in some '70s-style gendered binaries: of rock versus pop; authenticity versus artifice. The world Cooper and Gaga create in the movie is an old-fashioned one, where rock can still make you famous, and where belting ballads alone at a piano is somehow more legitimate than taking the stage as a spectacular, fully choreographed pop diva. Gaga's Joanne-era experiments with retro Americana failed to break through in the real-life pop mainstream, but the imagined world of A Star Is Bornoffers a kind of second chance for her to connect with audiences in that mode; we can now see her abilities in a different light. And while the film is not all that interested in Ally's artistic vision or desires outside of Jackson's ideas about her, it still loves (and revolves around) Gaga's talent as a songwriter and performer.
The two stars, real and fictional, are linked in an interesting symbiotic relationship; Gaga is the kind of complex, multifaceted pop artist the movie doesn't quite know how to portray — but through the force of her talent, we believe in Ally's stardom anyway. And in playing this role, Gaga has been able to remind everyone what's she capable of, and proven that her own star is still rising.
After blowing up in 2009 with the release of The Fame Monster, Gaga quickly became one of the biggest pop stars in the world. Her hits, including "Paparazzi," "Poker Face," and "Telephone," were accessible dance-pop songs that also offered commentaries on fame and gender, ideas more explicitly brought out in her bold, inventive visuals. She was a self-described "freak," as she sings in "Bad Romance," an outsider, a "mother monster" for her fanbase, often coded as queer, which gave her a subcultural cachet that carried through her Born This Way era.
Gaga's third album, Artpop, was widely considered a flop compared to her previous success. As she started to lose her commercial grip, Gaga got off the pop escalator in 2014 with Cheek to Cheek, an ultimately successful venture that showcased her musical versatility and introduced her to new, older audiences. In the interim, pop was becoming more specifically personal, and the personal was political. Beyoncé, for instance, turned to intimate lyrics about love and infidelity that became statements about black womanhood and captivated the zeitgeist. Gaga returned with a proper studio album, Joanne, in 2016, announcing she was stripping down and presenting the "real" her behind the meat dresses and wigs.
The Joanne narrative didn't have the cultural resonance of Gaga's earlier, more deliberately strange and provocative commentaries on fame — which started to look quaint in the reality television era — or her use of queerness as a metaphor for outsiderness. Gaga also struggled to find a place for the album's songs in contemporary radio and culture, in part because the idea of rock as the popular genre for political commentary or singer-songwriter depth has long lost cultural capital — exactly the shift that makes Cooper's Jackson Maine, in A Star Is Born, feel transported in from another era.
Still, the record's mythology was embraced by Gaga's fanbase, and it eventually went platinum. The ballad "Million Reasons" revived the album and ended up a top 5 hit, after she presented it as a minimalist piano moment in her hit-centric retrospective Super Bowl show last year. The public responded to that kind of unvarnished performance — and that's the kind of performance A Star Is Born believes in. The film rewards Ally, Gaga's character in the movie, for the supposed sincerity and depth of performing with no frills. The celebration of "authenticity" as nonspectacular is the kind of gendered conventional wisdom about pop music that Gaga's early career was a statement against.
But the film makes Ally's raw vocal performances central to her charisma. Through Ally and the world of the film, Gaga has reclaimed her recent retro phases for a pop audience, and created yet another iteration of her real-life career — this time, as a movie star.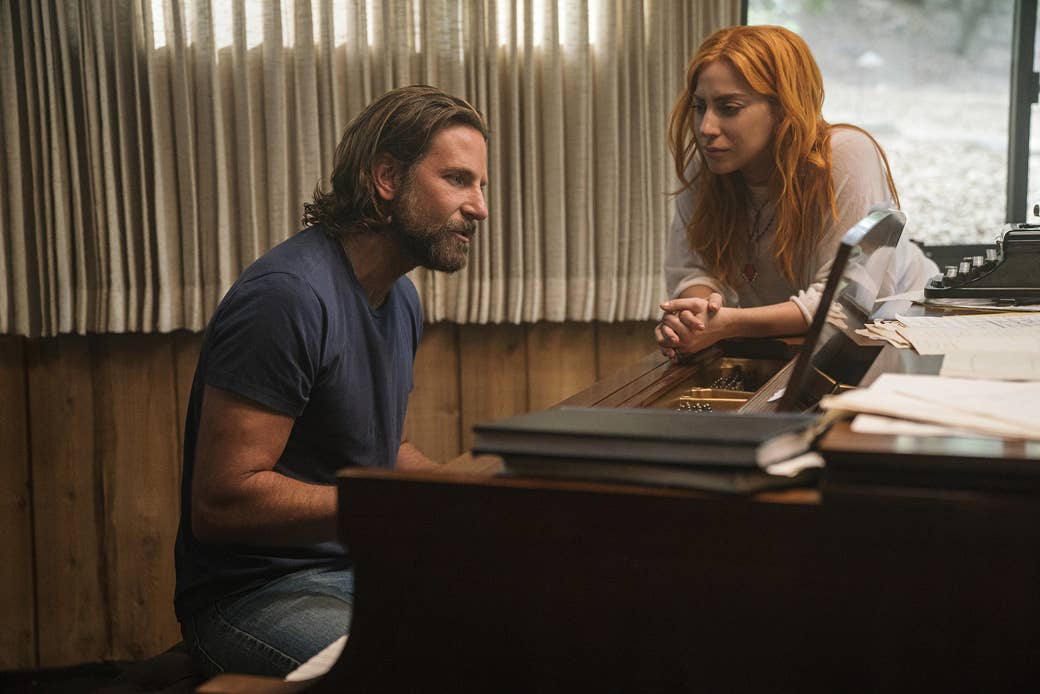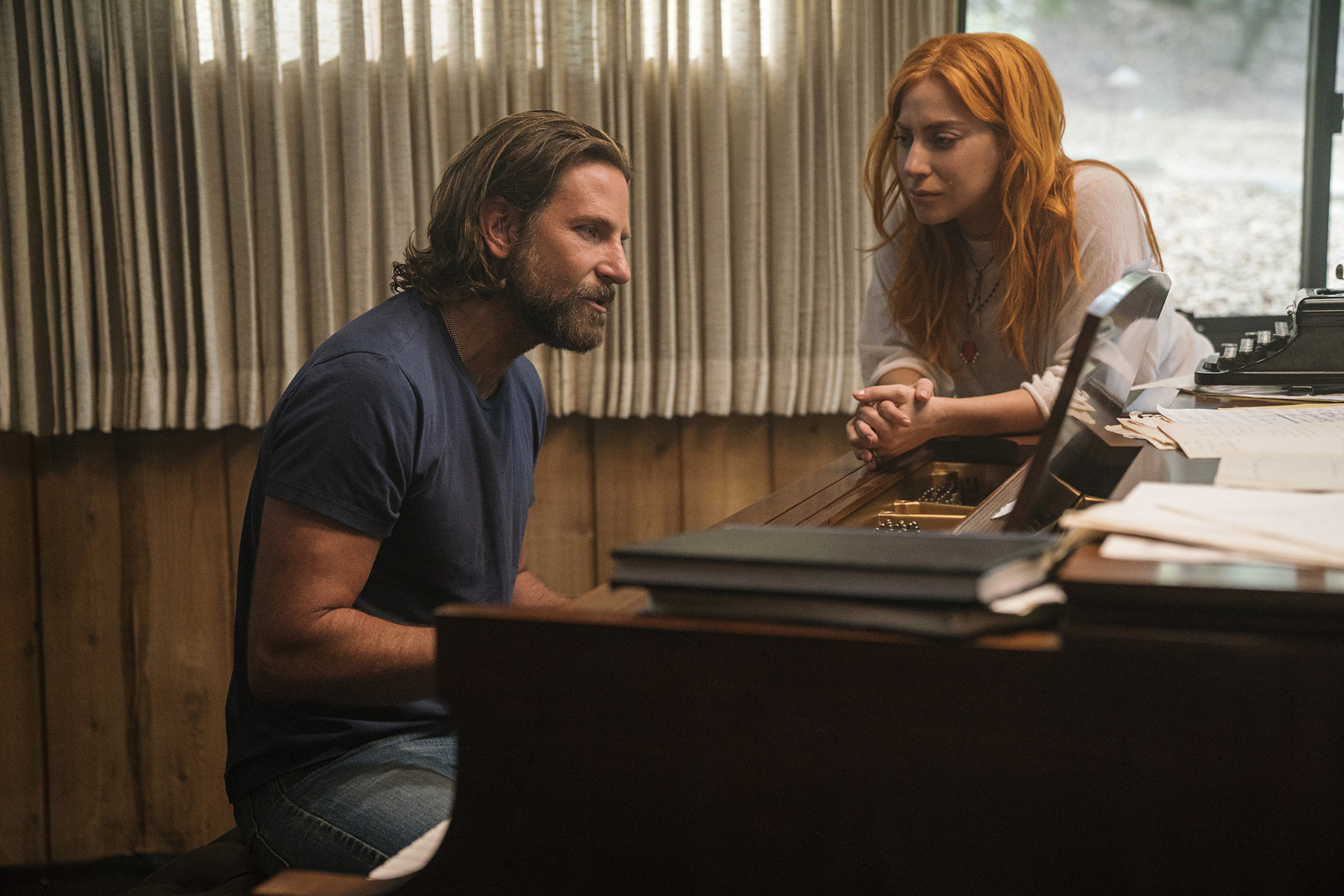 During the first half of the film, as Jackson falls for Ally, the audience falls for her too. Maine first lays eyes on Ally as she's performing a version of "La Vie En Rose" in a drag bar. The setting was Gaga's idea, and it becomes an effective way of infusing the movie with the queer subcultural cachet she became famous for earlier in her career.
Ally finds herself as an artist as she falls in love with Maine, and she just happens to write songs in a style that fits his aesthetic. One of the film's early emotional climaxes comes when Maine invites Ally onto the stage to sing a song she wrote inspired by their romance, a duet called "Shallow." The powerful rock ballad, which Gaga wrote, sounds like a mash-up of "Million Reasons" and the nostalgic title song from Joanne, and has become the movie's memeable anthem, with over 14 million views on YouTube already.
The song in many ways encapsulates the film's themes, and the characters' visions of each other. In her own lyrics, Ally wants to assuage the male character in his vulnerability. "Ain't it hard keeping it so hardcore?" she asks. Jackson's opening lyrics, "Tell me something, girl / Are you happy in this modern world?" are a kind of projection of nostalgia and feminine innocence onto her, a vision that pervades the movie.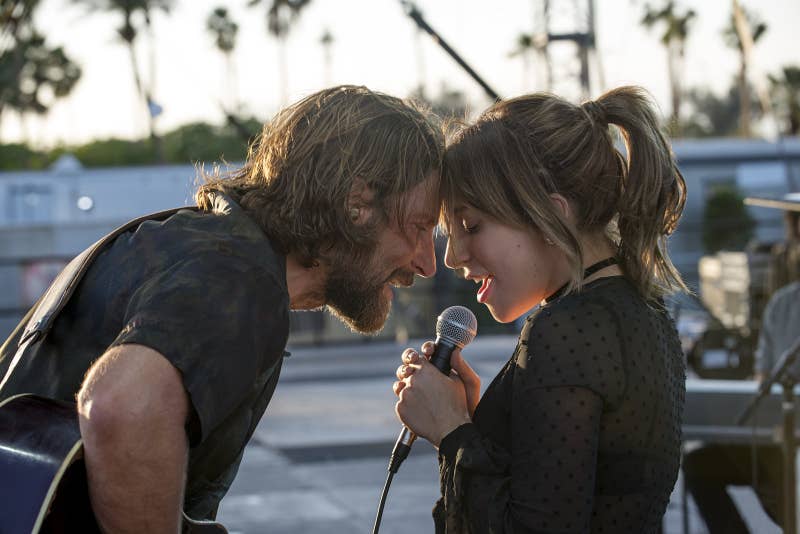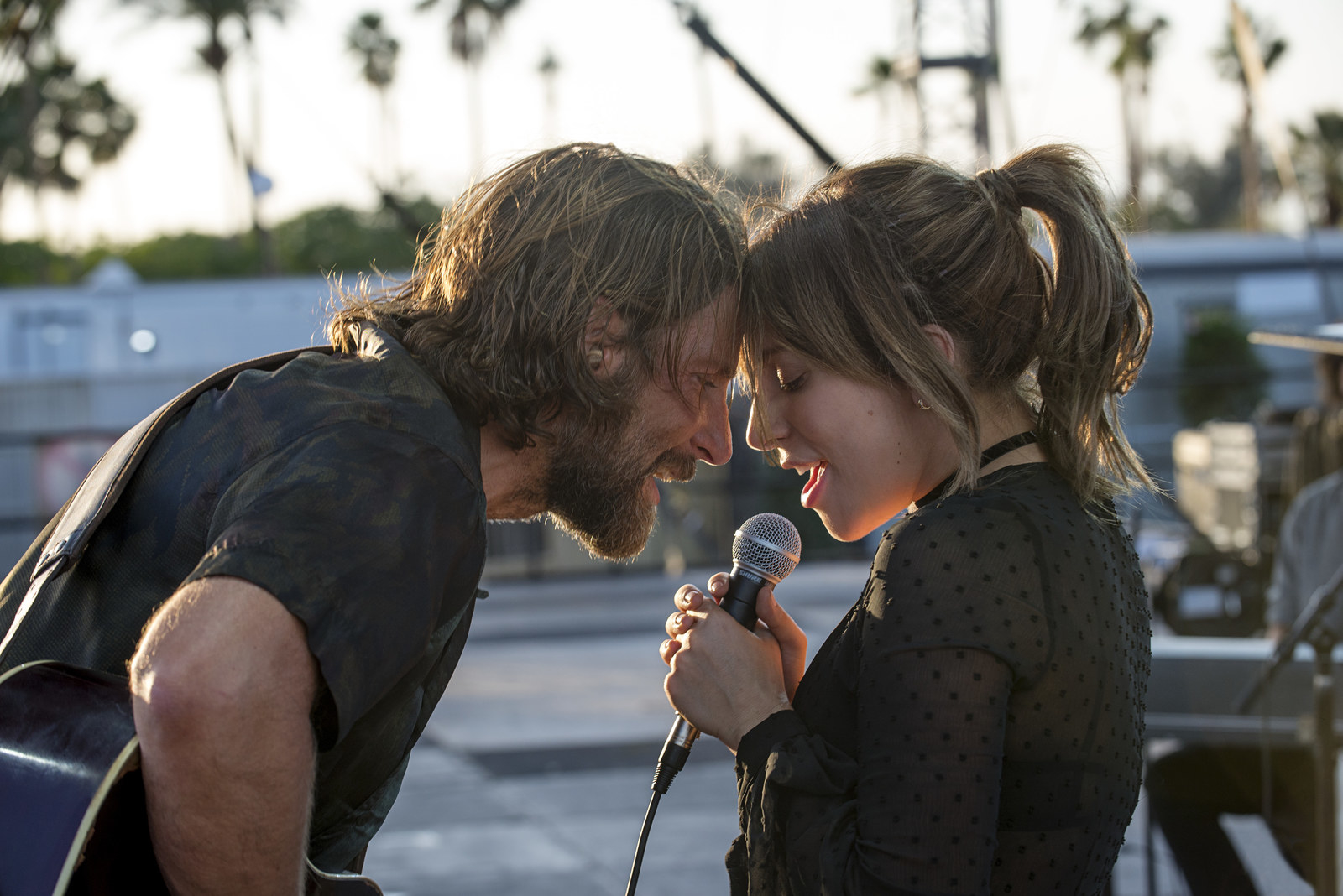 Once Ally is launched by the song going viral on YouTube, we never get a real sense of her perspective on her own music. Before performing "Shallow" together, which launches her to stardom, Ally talks to Maine about how record executives have told her that she's not pretty, and his love of her "ethnic" nose becomes part of their personal connection. These are all things we recognize from real-life Gaga's struggles, ones she has spoken about throughout her career. But after her star begins to rise, and she begins writing and performing pop songs, how Ally works this out through her music and image isn't actually part of the film's story.
This is decidedly not a pop-star narrative from a woman's perspective like, for instance, Gina Prince-Bythewood's Beyond the Lights or Brady Corbet's Vox Lux, starring Natalie Portman (in which the main character was actually inspired by Lady Gaga). Paradoxically, there is no space in the film's world for provocative, meta–pop star Gaga. Even the name Ally, which is also the name of the character's self-titled album, evokes the more straightforward stardom of someone like early Britney.
We know Gaga wrote this song, and that in her own career she's never played the supporting role to anyone.
As Ally prepares to release her debut album, Maine is constantly warning her that she has to dig deep within her soul if she wants to succeed, as if she's not already doing that. There are some allusions to Ally not wanting to "sell out" — she refuses to dye her hair platinum blonde (instead she goes for a violent orange, as if in a sort of compromise) or to perform with coordinated backup dancers — but the movie never really embraces her pop music. The two pop songs we hear, one with ass-centric lyrics that Jackson mocks, are the least memorable songs in the movie. But more importantly, they don't get a big "Shallow"-style moment where both the audience of the film and the audience in the film's world are meant to fall in love with them.
In the final scene, after Maine's death, Gaga reemerges, in a demure strapless gown, with her original light brown hair, to sing an old-school '90s, Whitney-style ballad, "I'll Never Love Again." She belts out the last song he wrote for her, in an homage to Maine, her vision now fully enmeshed with his. After having transformed into a bedazzled jumpsuit–wearing pop star, she seems to have gone back to a more "real" version of herself — the natural hair color, the ballad, the tasteful dress. And this is the other moment in the movie, where, as during "Shallow," we are entranced with the full power of Gaga as a performance artist.
Even as she's playing the role of the supportive, mourning wife, we know Gaga wrote this song, and that in her own career she's never played the supporting role to anyone. In the final moments of the concert scene, Ally stares directly at the audience, and we see the complex interplay of all the layers of this performance: Stefani Germanotta, who has transformed herself into Lady Gaga, playing Ally, who is singing to the crowd, as we — sitting in the theater — witness all of it. Knowing that this is yet another incarnation of the performance art project known as Lady Gaga, we are able to suspend any disbelief or doubt we might feel toward Ally, and see her as a more complex star than the one who's written on the page.
This article was originally writing by Buzzfeed