5 Super Bowl Halftime Shows You Have to Watch Again Before Lady Gaga's Performance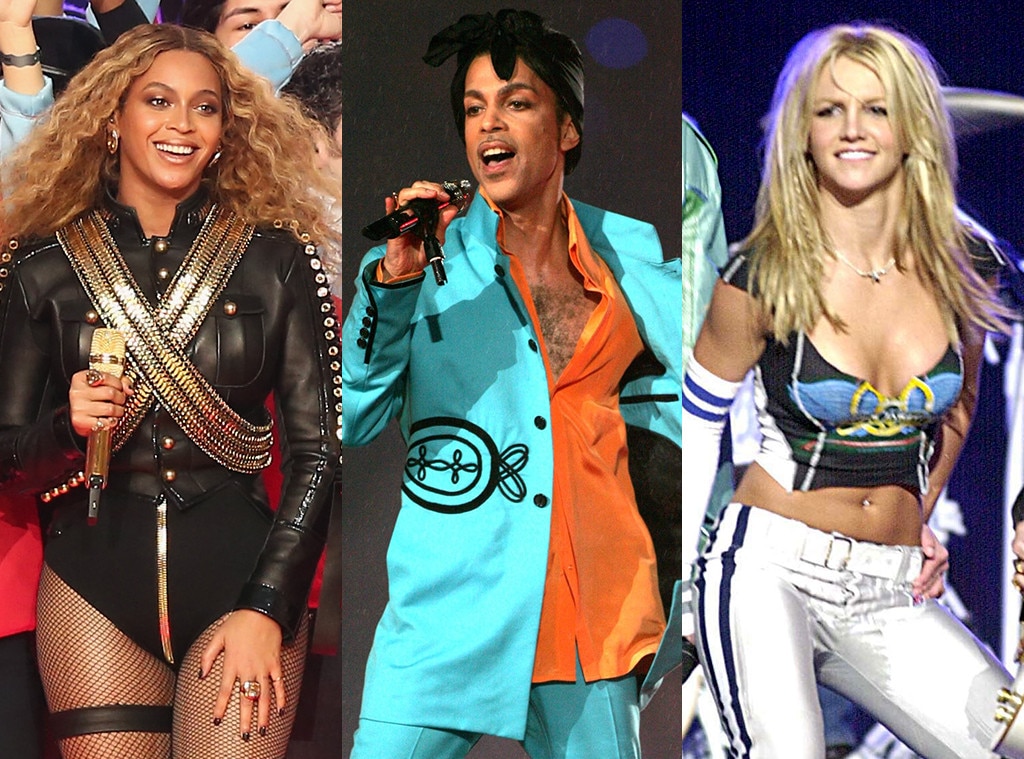 Getty Images
Forget about the New England Patriots and Atlanta Falcons. Who's ready for some Lady Gaga?We're just a couple short days away from Super Bowl 2017 where the Mother Monster will take to the stage for what is sure to be an unforgettable Pepsi halftime show.

While the «Born This Way» singer has kept fans guessing as to what she will sing and do during her select minutes, we can't help but look back and remember a few special artists that had us dancing and singing in our family rooms in between quarters.

And while Bruno Mars, Michael Jackson, Madonna and Janet Jackson (nip slip included) deserve kudos for their own reasons, we managed to nail it down to five truly incredible years.

Take a look at the special halftime shows below.
5. Shania Twain
Let's go, girl! As the headliner for 2003's show, the country singer wasn't shy about performing her biggest hits including «Man! I Feel Like a Woman,» «Up» and «I'm Gonna Getcha Good.» If country wasn't exactly on your playlist, Gwen Stefani continued the girl power when she joinedNo Doubt for an electrifying set. Finally, 80's music fans were delighted when they got a «Message in a Bottle» from Sting. Someone for everyone, wouldn't you say?
4. Prince
Purple rain was alive and well when Prince took center stage back in 2007. Between the marching band, eye-catching blue suit and stormy weather, the legendary performer owned the stage as he performed his favorites like «Let's Go Crazy.» He even provided special covers of Queen's «We Will Rock You» and the Foo Fighters' «Best of You.»
3. Katy Perry
Come on now, who can forget left shark? The «Roar» singer entertained the crowd from beginning to end with her wardrobe changes, surprise guests (Hello Lenny Kravitz) and grand entrance. Vibes also quickly changed when Missy Elliott took to the stage to perform some of her hits such as «1, 2 Step» with Katy. Perhaps the highlight was when Katy ended the set with «Firework» as she flew high above the crowd. She really did look brighter than the moon.
2. ''N Sync
Who's ready for a rewind? Back in 2001, boy bands were everything and Justin Timberlake's group had everyone dancing to «Bye, Bye, Bye.» Well, at least that was the case for the halftime show when 'N Sync took to the stage before Aerosmith, Mary J. Blige and Nelly made appearances. And how can we forget when Britney Spears surprised us all by showing up to provide vocals to Steven Tyler's «Walk This Way?» Thank you NFL!
1. Beyoncé
While performing inside New Orleans' Mercedes-Benz Superdome in 2013, the Grammy winner ran through hit after hit including «Love on Top» and «Crazy in Love.» While her dance moves, costume changes and killer voice would be more than enough, the singer decided to kick things up a notch when Kelly Rowland and Michelle Williams surprised the crowd with a Destiny's Child reunion. Everyone who is a fan of this, put your hands up!
Super Bowl 2017 airs Sunday at 6:30 p.m. EST/3:30 p.m. PST only on FOX.