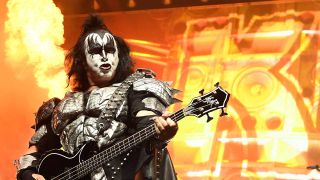 (Image: © Kevin Mazur / Getty Images)
Forty four years since Chaim Witz, Stanley Eisen, Paul Frehley and George Criscuola first assembled in a New York City jam room, Kiss have sold over 100 million albums, licensed their name to over 3,000 products from condoms to coffins and amassed an estimated net worth of "between one and five billion dollars".
They've been one of the world's biggest groups for generations, influential across a huge range of genres and media. Over such a long, colourful career, there have been so many crazy events that it's impossible to keep up with them all. Here, we present 19 lesser-known Kiss facts.
Kiss were duped into unmasking in 1974!
For 10 years, the true faces of Kiss were a secret. They'd teased fans with 1980's false-alarm Unmasked album, but when the real unmasking aired on MTV in September 1983, it was a huge deal, attracting sufficient attention to rejuvenate the band's career.
And yet, the classic lineup had already been hoodwinked into posing for group shots sans greasepaint in 1974 by Charlie Auringer, art director at legendary rock magazine Creem. Charlie's cunning ruse was to tell the band he'd spoken to their management and they'd said it was OK… but he hadn't and it wasn't. Creemagreed not to publish the shots, to preserve the carefully wrought mystique.
Kiss launched a wrestling team!
Or tried to, at least. In 1999 the band negotiated with World Championship Wrestling to endorse a grappling group called The Warriors Of Kiss. "The bottom line is, other bands can't have fun," Gene told Entertainment Weekly. "If we were REM, we couldn't do this."
Sadly, the project petered out after Brian Adams quit the introductory role of The Kiss Demon without competing in a single match, and replacement Dale Torborg was sidelined due to WCW internal politics. Gene had intended that after all four Kiss members were represented in the ring, they would be joined by female equivalents: "Big girls, with big boobs, wearing Kiss make-up, wrestling."
Leela from Futurama sang on Gene's 1978 solo album!
Actress Katey Sagal – best known as Gemma from Sons Of Anarchy, Peg Bundy from sitcom Married… With Children and the voice of Leela in Futurama – was an aspiring singer and waitress when Kiss walked into her restaurant in the mid-70s. "Gene thought I was kinda cute, so we ended up kinda going out," she recalls.
Katey's own band, The Group With No Name, were signed to Casablanca Records in 1976 after Gene pulled some strings. The Group… didn't last long, but Katey went on to sing back-up for Bob Dylan, Bette Midler and Molly Hatchet before finding fame on TV.
Kiss went into partnership with Hello Kitty!
Although fiercely protective of the Kiss brand, in 2012 the band have embarked on a line of co-branded merchandising with fictional Japanese pussycat Hello Kitty. There are t-shirts, mugs, vinyl figures and badges depicting the cute white cartoon moggy in Kiss make-up, but the highlight of the range is surely the toilet paper… as tested by Mike Tyson at the product launch in Las Vegas.
Kiss turned down The Beatles!
Or rather, they rejected the chance to appear as the Future Villain Band in the preposterous 1978 Beatles musical Sergeant Pepper's Lonely Hearts Club Band, because they were worried about how playing the bad guys might affect their image. The role was eventually accepted by Aerosmith, who were too stoned to care.
The Beatles turned down Kiss!
In 1978, Gene tried and failed to get any and all ex-Beatles to guest star on his solo album. Kiss legend has it that only Ringo actually declined his offer, while the other ex-members of the Fab Four couldn't appear due to 'scheduling commitments'. Denied the hubristic ambition of reuniting The Beatles on his own solo album, Gene turned to what was surely the next-best thing available: the cast members of the tribute stage show Beatlemania.
Their stage set featured a prop from the 1931 movie Frankenstein!
A lightning machine from the laboratory set in Universal's 1931 horror classic Frankenstein was used at early dates on the 1976 Destroyer tour, where it was dubbed the God Of Thunder Machine. A giant Tesla coil that emitted coloured electrical beams, designed by Ken Strickfaden (dubbed "the Greatest High Voltage Special Effects Man Of All Time" by the Tesla Technology Research website), it was soon abandoned for being too cumbersome and unreliable.
The hottest band in the world… Fuck?!
Before Paul suggested Kiss (prompted by Peter Criss's ex-band Lips), a few other names were considered by the band. Ace liked Albatross, Peter preferred The Crimson Harpoon and Gene's favourite was Fuck.
Ace recorded Shock Me lying flat on his back!
Shock Me, on 1977's Love Gun, was the Spaceman's first ever lead vocal on a Kiss LP, and the guitarist's laid-back performance was achieved by amusingly literal means.
In Guitar World magazine in 1992, Dimebag Darrell asked Ace if it was to help him hit high notes. "I did it because I was nervous and I didn't want anybody to see me sing!" Ace explained. "I made [producer] Eddie Kramer lower the lights and I lay down so he couldn't see me!"
There are now Kiss urns!
The Kiss Kasket was just the start. As part of the deal they signed with memorials firm Eternal Image, a range of Kiss cremation urns are now on the market. The first design depicts the band leaping out of flames, but if you want a more subtle Kiss urn, three further designs are promised.
The deal also included the production of Kiss bronze memorials, Kiss prayer cards, Kiss registry books, Kiss memorial candles and Kiss cremation urns for pets.
They've been on Scooby Doo!
In the 2002 Halloween episode of What's New Scooby Doo?, Shaggy and Scooby are excited to hear that Kiss are going to be playing a show in town. However, the concert is disrupted by the ghost of Hank Banning (or is it?) and some robot scarecrows.
When the faux-spectral mayhem kicks off while the band are rocking through Shout It Out Loud, Gene asks Paul what they should do next. "What we always do," shrieks the Starchild. "Keep playing till the cops come!" In 2015, they teamed up again for the straight-to-DVD movie Scooby-Doo! and Kiss: Rock and Roll Mystery.
Eddie Van Halen wanted to replace Space Ace!
In 1977, a year before the Van Halen debut, Gene invited Eddie and Alex Van Halen to accompany him on demo material for Love Gun. On the album, Gene got Ace to play the Christine Sixteen solo note-for-note how Eddie had jammed it.
When Ace left the band in 1982, Eddie – by then a superstar in his own right – announced to Gene that he was sick of Van Halen's new direction and Dave Lee Roth's ego and he wanted to join Kiss. Gene talked him out of it, insisting Eddie "cast too much of a shadow to be the guitar player in Kiss".
Gene's hair is flammable!
Kiss's first 'official' concert was New Year's Eve 1973, supporting Blue Öyster Cultand The Stooges. They had a new record contract and management deal, a debut in the can, a brand new logo backdrop and a new stunt: Gene breathing fire, a trick he learnt from the magician Amaze-O.
Gene soon found out why Amaze-O was bald when the inaugural fire-breathing event went wrong and Gene's hair caught fire. The Demon was consoled backstage by '70s superstars Todd Rundgren and Rick Derringer, who warned him against playing with fire. Gene took no notice, going on to ignite his barnet many more times over his career.
The Kiss Monster Book is three-feet tall and will cost you $4,250!
"A must-have for all Kiss fans," Tommy Thayer has the audacity to say in the advert for the appropriately titled Monster Book, which is an impractically enormous compendium of live snaps of the band that's limited to only 1,000 copies.
This is a ridiculously huge tome that opens up to a width of five feet. "You can get a couple of them and build a house," reckons Paul, and let's face it, you'll probably need somewhere new to live after you've shelled out a few grand for a book.
Gene Simmons encourages men to piss on his face!
A novelty marketing campaign for Gene's reality show Family Jewels involved the USA-wide distribution of urinal cakes featuring an image of Gene's face with a urine-activated talking splash protector.
Over-zealous Kiss fans were reported to be stealing the items, to which Gene advised, "Remember to wash 'em before you take 'em home." It's uncertain what the talking urinal cakes actually said.
There's a Kiss tribute band of dwarves!
"You wanted the littlest, you got the littlest!" Mini Kiss were formed in New York City in 1996 by lifelong Kiss fan and 4'4" Mini-Demon Joey Fatale. At their first public appearance, the venue was mobbed to such an extent that police had to be called.
In 2004 they toured with A Perfect Circle, and in 2010 Mini Kiss starred alongside the full-sized Kiss in a Dr Pepper Superbowl advert. Sadly Joey died in 2011 but Mini Kiss live on, appearing with Mini Elvis and Mini Gaga at the 2012 Minipalooza Festival.
Space Ace had the ability to change skin colour!
While making the appalling 1978 TV movie Kiss Meets The Phantom Of The Park – so loathed by the band that any mention of it was reputedly forbidden in their presence for years – Ace had several arguments with director Gordon Hessler.
Once when the Spaceman stormed off the set, he was replaced on-screen by a black stunt double. Teleporting we can believe, but full ethnic transmogrification? Speaking of which…
Kiss were dropped from Jacko's tribute concert!
On August 15, 2011, live on CNN, Michael Jackson's mother announced the addition of Kiss to the bill of the Michael Forever tribute concert in Cardiff.
Just a day later, the band were 'un-invited' due to outrage among Jackson fans concerning remarks Gene had made about Michael the previous year, including such indiscreet pearls of wisdom as, "There's no question in my mind he molested those kids."
Kiss songs help you win at sport!
In 1975, college American football team the Cadillac High Vikings were despondent – until coach Jim Neff started playing Kiss albums in the team bus and locker rooms.
By the end of the season they had won seven games in a row and ended up Conference champions! Neff contacted Kiss's management to tell them of his team's success, whereupon Kiss offered to play a show on campus and take part in the town's Homecoming Parade.